Paramparik Karigar introduces its Master Craftsmen under the series called   'Jewels In Our Crown'
Master Craftsman of Kalamkari: Padma Shri J. Gurappa Chetty.
Kalamkari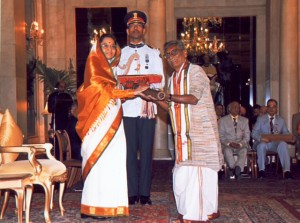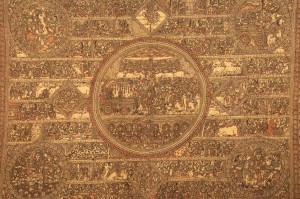 The art of Kalamkari was originally called Vrathapani. The new name must have come from the use of the 'Kalam' (pen), in the paintings. This style embraces the world of gods and a crowd of celestial beings since Kalamkari paintings were used from ancient times for decorating temple images and temple chariots during processions. These paintings were used for giving instructions inside temples. For outdoor gatherings, the paintings were stretched between two palm trees.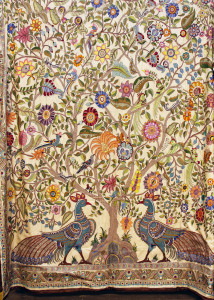 Making of the painting: The cloth is dipped in Harde/ Karaka fruit/ Myrabalam solution, to make the dye appear black. The brushes used are made from bamboo slivers. A fine pointed one is used to outline the whole painting with black dye. Black dye is made from iron filing which often takes weeks to make. Another flat-tipped brush is covered with an old piece of woolen blanket and is used to brush in the natural vegetable dyes, one at a time. After each colour application, the cloth has to be washed in running water, making the whole process laborious and complicated. The design usually has a main central panel and is surrounded by smaller panels arranged in rows, beneath which, written in black ink, are verses from original texts to transcribe the legend. This was a family vocation, so all members from childhood have to be well versed in the scriptures and legends before they were able to create the Kalamkari .
Master Craftsmen: Padma Shri J. Gurappa Chetty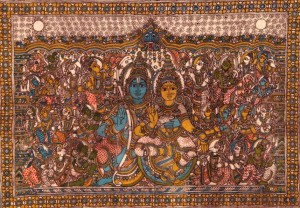 Jonnalagadda Gurappa Chetty is son of Lakshmaiah, who was one of the last surviving Kalamkari artists in Andhra Pradesh in the 1940. Lakshmaiah, is accredited for his masterpieces like 'The Mahabharata' and 'The Ramayana', exhibited in the Victoria and Albert Museum in London.
Gurappa Chetty began learning the art of Kalamkari from his father at the age of 13. He underwent Teacher's Training Course in 1955-57. He also underwent training in Kalamkari in 1957-59 from All India Handicrafts Board. He spreads awareness about the art of Kalamkari by conducting workshops.
Gurappa perfected this art and carried it to new horizons and even depicted legends from 'The Puranas.' His wife Girijamba, colours the paintings outlined by her husband as per the tradition. Gurappa was also very keen to train his daughters and hence became the first Kalamkari artist to hold workshops for women. His son J. Niranjan has carried this tradition on and is a well -known Kalamkari artist in the country, who has traveled extensively (both nationally and internationally) to promote Kalamkari and conduct workshops. Niranjan is a recipient of State Award and also was given an award to celebrate the 50 years of All India Handicrafts Board (AIHB)
Gurappa Chetty is a founder member of Paramparik Karigar.
Awards:
1) J. Gurappa Chetty was honored with the Presidential National Award for Crafstmanship in 1976.
2) He was awarded Telugu Kala Thoranam Sanman from Govt. of Andhra Pradesh.
3) He was honored Tulasi Sanman from Bharat Kala Bhawan, Bhopal. In 2001-2002,
4) He was awarded the title of Shilpa Guru in 2002 by the Govt. of India.
5) He was awarded the Kamaladevi Chattopadhyay Memorial Award for his contribution to craft by Paramparik Karigar,
6) In 2008 President of India honored Gurappa with Padma Shree in recognition of his contribution to Kalamkari Art.
Address of Padma Shri J. Gurappa Chetty:
PLOT NO 4, Behind Thottambedu Samiti Office
Srikalahasti – 517 644
ANDHRA PRADESH
RES – 05878-222999
cell – 9959326521
You can also join us on our Facebook page: PARAMPARIK KARIGAR on Facebook
Recent Posts: