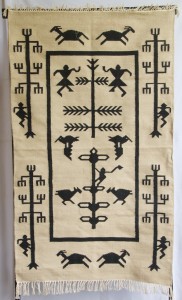 Hand Woven Dhurrie
Place of Origin: Many parts of India. Earliest recorded hist0ry- 5th Century
Genre: Handloom, Material – Cotton and wool.
Technique:
A Dhurrie is a flat woven pile-less cotton or woolen area rug made in a variety of designs and colours.  Dhurries are made manually by skilled artisans on a traditional horizontal loom or vertical loom. They are woven by interlacing the vertical threads- the warp with the horizontal threads – the weft. Dhurries in India are produced in a wide range of complex geometrical, floral, figurative patterns as well as traditional designs, ethnic motifs combined with contemporary tastes and colours. Traditionally , vegetable dyes -which use indigo, harad, mangeetha, pomegranate peel are used to dye the Dhurrie.
 Typical Features
Dhurries are always weft-faced, which means that the warps are never visible except at the fringes because they are completely covered by the wefts.
Though usually made of cotton, sometimes other fibres such as wool, jute, coir, wool, camel hair, silk, sisal, plant-fibre and recycled fabrics are also used.
The design, size and structure of the dhurries varies according to use-bedside durries, prayer dhurries, room dhurries, festival or palace dhurries. Dhurries are typically in eye-catching shades , often with contrasting borders.They can have figurative elements such as mosque, minarets, Hindu shrines, oil lamps or non figurative geometric, floral or even tribal motifs and patterns.
Geographical Spread:
Dhurries are made in these places :
Warangal, Telengana;
Madhya Pradesh
Himachal Pradesh,
Punjab, the areas around Ludhiana, Faridkot and Bhatinda
Rajasthan at Salawas
Uttar Pradesh –in Khairabad
Karnataka- Navalgund taluk
For the Trivia Buff:
Historical Record of the Dhurrie-
Aurel Stein, on one of his expeditions across Central Asia, China and India, attributed several fragments unearthed at the Niya site in Turkestan to be flat weaves from India, dating them at 200-400 AD.  Evidence of the Dhurri tradition exists in manuscripts, paintings and fragments from the Mughal period and after.
The Difference between Carpet and Dhurrie
A dhurri is a flat, woven, light rug, usually reversible, whereas a carpet is usually heavier, with one display side. A dhurri is lighter because
it is mainly made of cotton, while a carpet uses wool and is thicker as well.
The process of dhurri making is different from that of carpet making. Normally, the main tool in dhurri making is a vertical frame composed of two horizontal beams on which the warp is fitted, unlike the big looms carpet making involves.
A curious fact :
Panja weaving is mostly used for making durries. The craft gets its name from a metallic claw-like tool called panja in the local dialect, used to beat and set the treads in the warp.
Sources :
Paramparik Karigar Archives
https://www.hepcindia.com/durries/
https://en.wikipedia.org/wiki/Dhurrie
http://www.craftmark.org/sites/default/files/P002%20Panja%20Weaving.pdf