Warli Tribal Painting:
The Warlis live in Thane district of Maharashtra. They are tribal artists with 1200 years old painting tradition.
Traditionally the women of the tribe created the wall paintings on their 'chowks' during marriages and festivals. These paintings were greatly influenced by the surroundings and day-to-day life of the Warli Tribe. To prepare the background for the paintings the walls of the huts were coated firstly with cow-dung, then with the mud and finally with the 'Geru' (terracotta paste). Powdered rice was made into a paste to draw the paintings and thin reed like sticks from the Baharu tree were used as pens. The paintings are made by drawing geometric shapes like circles, triangles and squares.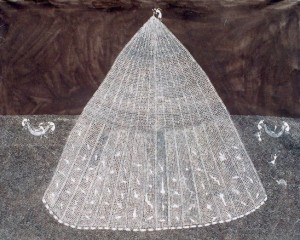 Ironically today it is the men folk who practice this art form. For commercial reasons the paintings are drawn with white rice paste on a paper that is thinly smeared with cow-dung paste. The paintings have semi abstract figures spread over the surface in an easy narrative flow. They have evolved from restricted ritual drawings on mud-walled huts into a pictorial repository of folk tales, humour and myths. The paintings are made without the prop of colour and with a remarkable economy of detail. Realizing that there is a growing demand for the lyrical art, the Warlis have moved from painting the walls of their homes to painting on canvas, paper, table lamps and even fabrics like saris & scarves.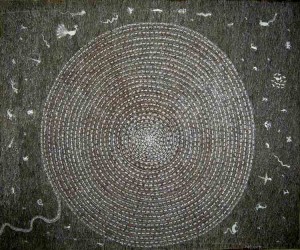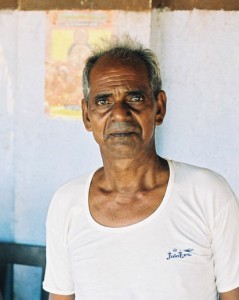 Master Craftman Jivya Soma Mashe ( Padma Shri Awardee)
Jivya Soma Mashe is known for his creative reinvention of an art vocabulary that was disappearing. His is also unique in his vivid representation of the tribal vision of nature and culture in equilibrium and for highlighting the contemporary relevance of local forms of knowledge.
He has significantly contributed to the culture and development of the Warli tribe.
Jivya hails from Dahanu Taluka of Maharashtra, home of the millennia-old Warli tribe. In his youth he was an over-seer of grass lands, and would often paint in the traditional Warli idiom, an expression that was then the preserve of women of the community. A field worker of a crafts board Bhaskar Kulkarni observed him painting. Sensing that Jivya Mashe had immense potential, he encouraged the budding artist to paint, and cultivated him as a master craftsman, and as they say, the rest is the history.
Through his works, Warli art emerged from its cocooned world to draw global fame and attention. Today Jivya's name is synonymous with Warli painting. A true giant in the Indian art world, he has achieved international recognition and participated in exhibitions and festivals across the world. Jivya has two sons Sadashiv and Balu and a daughter. Both his sons are well known Warli artists. Paramparik Karigar cherishes this precious jewel in it's crown!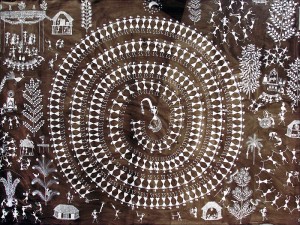 National Exhibitions:
1) Jivya's first exhibition was at the Gallery Chemould, Mumbai, India 1975. It was Keku and Khorshed Gandhi of Gallery Chemould who put Warli Paintings on the art scene of Mumbai.
2) 'Other Masters' exhibition at New Craft Museum, New Delhi, India. 1998
3) As a member, Jivya exhibited many years in annual exhibitions of Paramparik Karigar in Mumbai.
4) In July, 2007 another exhibition of his paintings was held at the Gallery Chemould, Mumbai.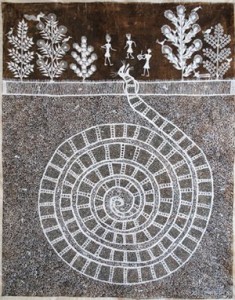 International Exhibitions:
1) 1976 – His first exhibition outside India was at the Palais de Menton, France.
2) His next exhibition was at the Pompidou Centre, Paris in 1989.
3) 2003 – he had a joint exhibition with Richard Long at Museum Kunst Palast in Düsseldorf, Germany,
4) 2004 – exhibited at Padiglione d'Arte Contemporanea Milano, Italy.
5) 2004 – Richard Long, Jivya Soma Mashe, Un Incontro, PAC, Milano, Italy
6) 2006 – exhibited at the Shippensburg University United States
7) 2007 – exhibited at Halle Saint Pierre Paris (jointly with Nek Chand)
8) 2009 – Small sizes of the Warli tribe Mohanjeet, Paris, France.
9) 2010 – Autres Mai'tres de l'Inde Musée du Quai Branly, Paris France
Forthcoming exhibition: in 2014 at the Reina Sofia Museum (Madrid) and at the Foundation Cartier (Paris).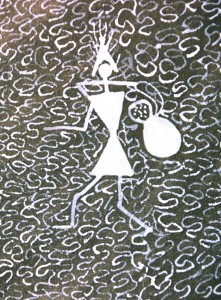 Publication:
1) The Warlis: 'Tribal Paintings & Legends' Chemould Publications 1985, which made Jivya's work known internationally.
2) The Painted World of the Warlis by Yashodhara Dalmia. Lalit Kala Akademi, 1988, New Delhi.
3) Les Magiciens de la Terre  published by Centre Georges Pompidou, 1989, Paris
4) Other Masters texts by Jyotindra Jain and Yashodhara Dalmia. Crafts Museum, 1998, New Delhi
5) Art tribal et art populaire Indiens contemporains Hervé Perdriolle, Musée des Arts Décoratifs, Paris, 1998
6) Tribal Art A collection of Indian Tribal Paintings, Hervé Perdriolle, Auroville Press 1999
7) Richard Long, Jivya Soma Mashe Museum Kunst Palast, Düsseldorf 2003
8) Richard Long, Jivya Soma Mashe Padiglione d'Arte Contemporanea, Milano 2004
9) Jivya Soma Mashe and the Warli Tradition Shippensburg University, USA 2006
10) Nek Chand, Jivya Soma Mashe Halle Saint Pierre, Paris 2007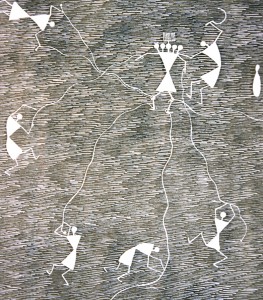 Awards:
1) Jivya Mashe received National Award in 1976;
2) Shilp Guru award in 2002
3) The Prince Claus Award in 2009
4) The Padma Shri Award in 2011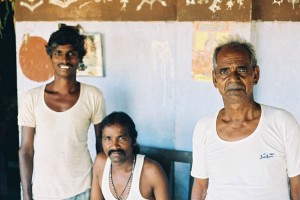 Address:
Mashe Jivya Soma
At Kalamipada, House No 766,
Post-Ganjad,
Tal-Dahanu, Dist: Thane,
Maharashtra
Tel –  02528-262125 (C/O)
Cell – 09422685232
Stay connected with us on Our Website: PARAMPARIK KARIGAR & on our Facebook page too (Paramparik karigar on Facebook -Link here)
Recent Posts: