We lost a jewel in our crown: Master Craftsman, M. V. Lakshmanan
In month of August 2015 , we lost yet another jewel in our crown, our beloved Mr. M. V. Lakshmanan. He immortalized his art in his beautiful bronze sculptures which will always remind us of his genius.
M. V. Lakshmanan was a Master Craftsman and an expert in traditional bronze craft and metal casting.Metal casting was his passion. At young age he decided not to follow his ancestral profession as a goldsmith. This passion brought him to Bangalore all the way from a small village in Kerala to learn the craft at the Central Handicraft Development Centre. In recognition to his genius the president of India honored Mr. Lakshmanan with National Award for excellence in bronze sculpting in 1980.
International accolades have also poured in. With his participation in the 'Festival of India' in England, his work got noticed and now these are on display in museums and art centers all over Britain and USA. From 16th Feb 2007 to 14th March 2007 he exhibited in New York in USA with Paramparik Karigar and gave demonstrations of traditional sculpture of India.
In India he has exhibited in various exhibitions and museums, including Salar Jung Museum, Hyderabad, and Chattrapati Shivaji Maharaj Vastu Sangrahalaya in Mumbai. As a member he took part in various exhibitions organized by Paramparik karigar.
 Talent runs in Lakshman's family as his sons Latish, Liju and Limu are sculptors and successful 3D animators. His son Latish helped him in his work and will carry on his tradition further with Paramparik Karigar.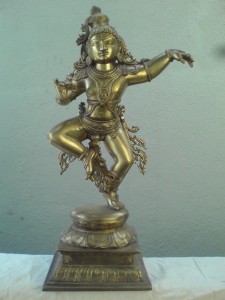 We, at Paramparik Karigar salute you Mr. lakshmanan and you will forever remain in our hearts.
Bronze-casting: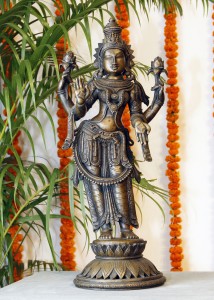 The classical art of bronze-casting was perfected by craftsmen who rendered religious imagery into metallic form.
Slender images of goddesses rich in detail and mighty gods in awe – inspiring postures are created and each pose or gesture has a mythological significance. Stylistically the images made in Tamil Nadu conform to periods like Pallava, Chola, Pandyan and Nayaka. Bronze contrived from copper and tin is used to shape the beautiful sculptures following the guidelines in Shilpasastras. While making the countless and individualistic images with extreme precision, the craftsman has to learn not only the physical measurements to achieve the right proportions but also to familiarize himself with the verses describing each deity, its characteristics, symbolism, and above all the aesthetics. Usually a coconut palm leaf is used as a measuring ribbon, marks being made by folding the leaf. On the technical and aesthetic excellence of the wax model depends the ultimate perfection of the end product. The mould is given several clay coatings on the wax model. In solid casting the molten alloy is poured in a thin and even stream into the mould. When the mould is broken, care is taken to see that the head of the icon comes out first as a good omen. Connecting rods are often used for support and these have to be detached most skillfully. In hollow casting a clay model is made over which is applied a thick coating of prepared wax. The thickness of the wax must match that of the final article under preparation. The mould is kept rotating on the lathe as the hot wax is spread, over which are marked and pressed the designs for decorating. Other coatings are given of a paste of burnt clay to keep the wax intact. An opening is provided in the outer-shell and when a fire is lit around it the wax melts and flows out through it. Into this empty space is poured the molten metal. Then the usual method of tempering it with heat and cold alternately is operated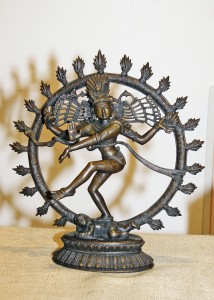 Address: Lakshmanan M.V.
31, 3rd Main
N.R. Layout
F.C.I. Rd, Doorvani Nagar,
Vijanpura
Banglore-560 016
Karnataka
Email – bronzeindia@rediffmail.com