Culture is the identity of a people, traditional arts and crafts its manifestation. Those arts and crafts are our heritage. We display them, wear them and through it, express ourselves. We are often searching for them to fulfil this desire for self-expression. For those on such a search for traditional handicrafts, there was no better place than the Paramparik Karigar Exhibition at the WTC, on from 19th to 21st of august. More than a 100 craftsmen under one roof. Pashminas from Kashmir to Kanjeevarams from Kanchi. Tribal Weaves from Assam to Lehariyas from Rajasthan. Panted leather lampshades, metal figurines, woodcarvings, papier-mache sculptures –all these and much more. There was something for every palette and every budget.
Some moments from the event
Looking to complete a wedding trousseau? How about a vibrant Paithani or a classically elegant Kota Doria? Looking for an heirloom piece, something you want to leave behind for the grandkids? You could consider the intricately woven double-sided Patolas from Gujarat. Looking for the more casual everyday wear? Chanderi, Maheshwari, Tussor, Uppada- a day could be spent making up your mind. They make lovely gifting choices too. Are you a pure cotton-lover? Ikkat from Orissa, Ikkat from Seemandhra and Telengana, Kanchi cottons from Tamil Nadu, Khadi saris from Kutch and Maheshwar, to name a few Handlooms- a peek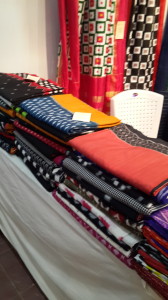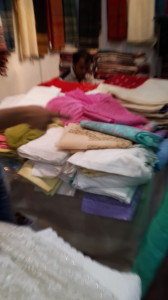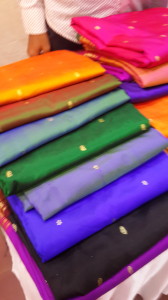 You are not looking for textiles but scouting for Handicrafts? There are enough choices there too. Want to acquire a masterpiece for your wall? How about a Phad paining, or a Miniature? By award-winning master craftsmen, no less. Working with a smaller budget? Kalamkari, Pipli patchwork tapestry, Patua art – take your pick.
Housewarming? How about some brass tableware? Or black metal figures or frames? Or brass statuettes? Searching for low-end gifts? Leather puppets? Nakash painted plates? Hand made paper? These are but just a few that were on offer.   You are looking not for handlooms or handicrafts but just something special to set off your outfit? You would be spoilt for choice; for Kolapuris, Jootis, mirror-work bags, stoles, scarves, dupattas, jewellery were all showcased here.
Not here to shop but just a lover of traditional crafts? Simply walk through the exhibition, talk to the craftsmen and your soul would be satisfied.
For that is what Paramparik Karigar is truly about. To be a place to nurture the crafts, provide a safe place for the next-generation craftsmen to learn and practice the craft, to eliminate the burden of the middlemen, to provide platform for the native crafts and to seek out and showcase lesser known but deserving traditional craft processes. Paramparik Karigar (not to be confused with PARAMPARIK) distinguishes itself from other similar organisation by being an association formed and run by the craftsmen themselves. A Paramparik Karigar exhibition is not a just a shopping experience, it's an expression of philosophy, an ethos, a way of live. We welcome you to come and embrace it
Follow us on facebook. To subscribe to our mailing list to get information on our future exhibition and workshops or to get in touch with us, go here.