Paramparik Karigar deeply mourns the death of one of our senior Master Craftsman from Bastar, Shri Jaidev Baghel.
Behind the superb metal cast images of the tribal deities of Bastar lies a rich world of myth and legend sculpted byJaidev Baghel.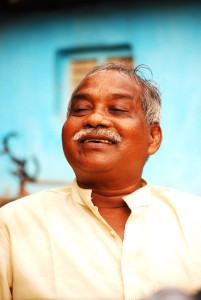 Master Craftsman Jaidev Baghel was born at Kondagaon, Bastar District of Chattisgarh. He belonged to a tribal artisan community whose hereditary specialization is Gadwakam or bronze metal casting. Jaidev learnt the techniques of casting metals from his father, a well known craftsman of his time.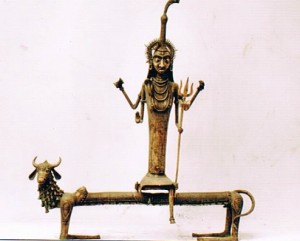 Jaidev was a great craftsman whose work had no boundaries.  A winner of the National Award in 1977 and several other awards, showed his outstanding skills. His strength was in his ability to research the origin of his craft and then to take it several steps ahead. Jaidev Baghel had exhibited his sculptures nationally as well as internationally. He exhibited his work in Moscow, Heidelberg & Stuttgart – Germany, London, Oxford, Scotland, Australia, U.S.A, Tokyo-Japan, Switzerland, Rome-Italy,Paris-France, Singapore, Hongkong, Bangkok. He left behind his wife Lata, three sons Bhupendra, Dhananjay, Sanjay and twin daughters, Poonam and Purnima. Jaidev also supported the families of his brothers. About twenty apprentices lived and worked with him constantly and he has been able to build a common facility centre for his Gadwa workers in Kondagaon.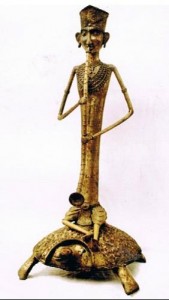 Jaidev will always be remembered by art lovers for his Metal casting or Gadwakam which is an ancient art of casting in India in which intricate design work retains its delicacies of form, line and modulation. The craft of casting metal by the lost wax process is called cire perdue in the West. This technique practiced in India from the prehistoric age still survives with efforts of craftsman like Jaidev and is used for making religious images, ritualistic items and objects of utility.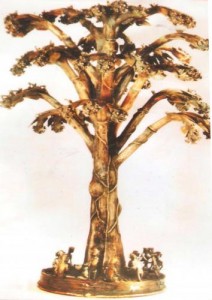 Jaidev Baghel had sculpted a six-foot-high Mahua tree as a sign of protest against the destruction of Bastar's forests. For Adivasis it is the tree of life, which since the beginning of time, has provided them with food, shade and income. The sculpture was bought by the Taj Mahal hotel in Mumbai and installed on the sixth floor under the dome of the building.
In the 26/11 terrorist strike, the sixth floor of the hotel was gutted. But as a note from the management said, "This symbolic tree withstood the attack and stands immortalized".