Phad Painting of Rajasthan
Traditionally created on long, horizontal pieces of cloth known as Phads, this style of folk painting usually depicts the folk deities of Rajasthan, especially Pabuji and Devnarayan. Pabuji was a famous king of the Rathore Clan. He is venerated as a folk deity in Rajasthan.
These paintings carry the task of representing a complex folk narrative which is achieved through specific style of representation. They form a visual backdrop to all-night storytelling performances. The process of making the material ready for painting is an important aspect of Phad painting. The cloth is first stiffened with starch made of boiled flour and glue and then burnished with a special stone device called a Mohra. The artist makes his own pigments using locally available plants and minerals and mixing them with gum and water. Once the composition is laid out in a light yellow colour, the artist applies the traditional colours—red, white, green, blue, orange and brown—and completes the painting. The Joshi families of Bhilwara and Shahapura are the traditional artists of this art form.
Master Craftsman Padma Shri 'Shree Lal Joshi'
Shree Lal Joshi is a world-renowned artist from Bhilwara, Rajasthan. He hails from a family of Phad artists who were once the sole keepers of the art of Phad painting. Phad painting is an art linked to the lively tradition of storytelling, music and performance. Shree Lal Joshi is credited with reviving this colourful art. More than 50 years ago he founded Chitrashala a pioneer institute for training different styles of paintings of Rajasthan and especially committed to Phad painting (Mewar Style). More than 2000 students & many research scholars have been skilled so far. Many of them are working professionally. Chitrashala has produced many national and international artists, who have been honored with prestigious awards.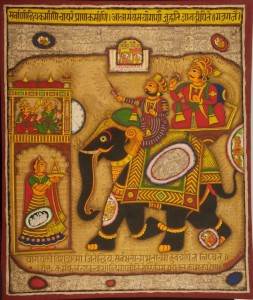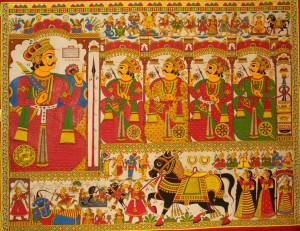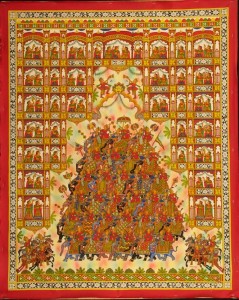 Shree Lal Joshi guided both his sons Kalyan Joshi and Gopal Joshi in adding new dimensions to this art. Kalayan Joshi is a leading Phad artist who received the National Award in 2012. He has experimented with new stories, contemporary style painting and line drawing. Gopal Joshi is also recipient of Kamla Devi Chattopadhayaya Award, 1990, State Award, 2003-04 and National Merit Award 2006
For his outstanding efforts, Shree Lal Joshi has received many National and International Awards.
National Awards
1) National Merit Award 1969, 1972, 1974
2) National Award 1984
3) Silver Award Bhartiya Lok Kala Mandal 1979
4) Kala Shree Award Haryana Govt. 1989
5) Bhuwalka Public Welfare Award Marudhara Institute Calcutta 1994
6) Padma Shree Award 2006
7) Sangeet Shyamla Award Kolkata 2007
8) Shilpguru Award 2007
International Awards
1) SAARC International Award Islamabad
2) Black Magician Award German Festival Stuttgart
Documentaries on Work
"The Folklore" By Director Mani Kaul
"Phad Painting & Shri Lal Joshi" by Lalit Kala Academy
"Painted Epics of Rajathan" by Door Darshan
"Twenty four Bagrwat Bros. & Lord Dev Narayan" by J C Miller. USA
"Phad Paintings of Rajasthan" BBC London
International Collection
Linden Museum Germany
Leforet Museum Japan
Albert Museum London
Landes Museum, Austria
Smith Sonian Museum Washington
Syracuse University USA
Etenografisca Museum Stolkholm Swedan
Museum of Singapore
Museum of Germany
Museum of Holland
Museum of France
National Collection
National Museum New Delhi ( Indira Gandhi National Art Museum, New Delhi)
National Craft Museum New Delhi
Hare Krishna Museum Kurushetra,
Bhartia Lok Kala Mandal Udaipur
Jawahar Kala Kendra Jaipur
Sanskriti Museum New Delhi
The Government of India has issued a postal stamp featuring Shree Lal Joshi's famous painting, the Phad of Shri Devnarayan.
Address
Shree Lal Joshi
Chitrashala
(Phad Painting Training & Research Institute)
Opp. Mataji ki Gali, Sanganeri Gate, Bhimganj,
Bhilwara City , State-Rajasthan 311001 (India)
Cell: +91 94141 15987 , +91 9602187770
Phone: +91 1482 229787
email: kalyanpjoshi@yahoo.com
Website: Phadchitra.com
Stay connected with us on Our Website: PARAMPARIK KARIGAR & on our Facebook page too (Paramparik karigar on Facebook -Link here)
Recent Posts: