Jewels In Our Crown
Paramparik Karigar introduces it's Master Craftsmen under the series called "Jewels In Our Crown"
"Stone Carving by Master Craftsman Padma Shri Sudarshan Sahoo"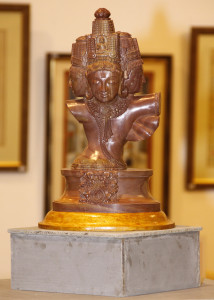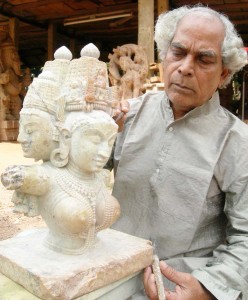 Stone carving flourished as temple art in various parts of India.
The breathtakingly beautiful temples of Konark, Jagannath(Puri), Rajarani and Lingaraj (Bhubaneshwar) in Orissa are outstanding for their elegance and detailed design.
South India also has a rich heritage of stone sculpture, especially in the presentation of animal and bird life. Following the principles of Shilpa Shastras, the sculptor's work starts from the quarrying stage, then chiseling numerous shapes and forms out of the stone, transforming it with minutely detailed ornamental designs, ending with the final polish to reveal a form of timeless beauty.
Master Craftsmen: Sudarshan Sahoo (Padma-Shri Awardee):
Master craftsman in stone carving for over six decades, Sudarshan Sahoo has acquired traditional skill and mastery in carving statues of deities and many decorative pieces. He has mastered the art of icon making and he is knowledgeable in the scriptures and ancient lore.
His style imbibes the temple heritage of Orissa. In 1970, he carved the stories of Lord Buddha at the Dhauli peace Pagoda near Bhubaneshwar. He has been to Japan several times at the invitation of the Japan Buddha Sangha and carved all the stone statues and murals for the Buddha temple and Stupas. His long cherished dream came true in 1977 when he started the Sudarshan Crafts Museum at Puri with the objective of bringing about a renaissance in this art.
In 1991, Sri. Sahoo set up the Sudarshan Arts and Crafts Village in Bhubaneshwar to keep the art alive by imparting training to the younger generation.
He has devised a scheme for training poor students free of cost in traditional temple sculpture, panels and statues using various media such as, stone, wood and fiber-glass. His two sons Rabi & Surya have joined him and he gives them scope to research and preserve the art. They have acquired skill and mastery in carving statues and have been practicing the craft for more than 30 years. They specialize in recreating and reviving ancient sculptures in stone, wood and metal.
Sudarshan Sahoo has demonstrated and exhibited his craft in India and abroad. His solo exhibitions in Mumbai, Hyderabad, Bangalore and Pune have received unprecedented appreciation and rave reviews from visitors.
Awards:
1) In 1981 President of India conferred the 'National Award' for excellence in Stone Carving to Sudarshan Sahoo.
2) In 1988 President of India honored Shri Sahoo with 'Padma Shri Award' for his outstanding contribution in the field of Arts and Crafts of India.
3) In 2003 he was awarded 'Shilp-Guru Award' by the Govt of India.
Address of Sudarshan Sahoo:
Sudarshan Crafts Museum
Station Road
Puri- 752 002
Odisha
Tel – +91 6752 – 222474 / 220474
Rabi -M- +91 94370 72474
E-Mail- sudarshancrafts@gmail.com
Website: www.sudarshancrafts.com
Sudarshan Art & Crafts Village
CB 5, Jayadev Vihar,
Bhubaneswar 751 013
Odisha
Tel – +91 674- 2360052/ 2360558
Fax – +91 674 – 2361212
—
You can also connect with us On Paramparik Karigar on Facebook
Recent post: