The Paramparik Karigar Exhibition opened today, 2-4-2013, at the Coomarswamy Hall of the CSMVS (earlier Prince of Wales Museum).
Our founder members, Arundhati Nanavati and Sita Setlvad, President Lalchand Chippa & Rambabu Chippa inaugurated the event by lighting the traditional lamp.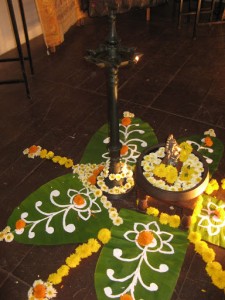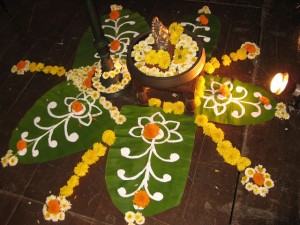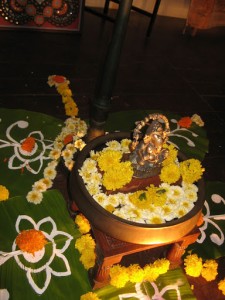 The April Exhibition showcases new craftsmen, ie those who have never been part of organisation before. This time, the new crafts displayed are Lipan, Mysore painting, Koftagari, wood carving etc. we have also got some new craftsmen for Miniature, Mithila, Bandhani etc.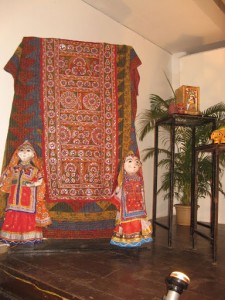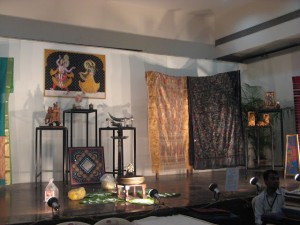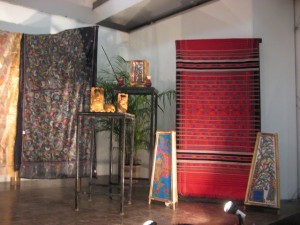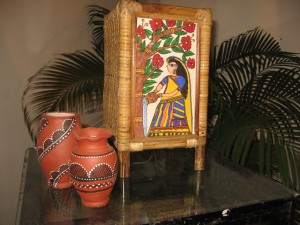 MITHILA: Mithila artist, Nand Kishore Jha, comes from jitwarpur, Madhubani. The main themes used in Mithila are universal to folk art. Fertility, rituals, myths, images of Gods and Goddesses, and superstitions are painted in strong vibrant colours with a strikingly visual appeal. Though practiced throughout the Mithila region this art form is also known as "Madhubani" as it was practiced in the Madhubani districts of Bihar.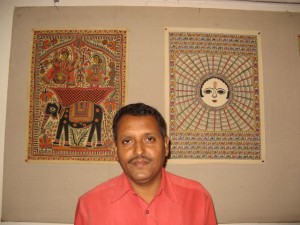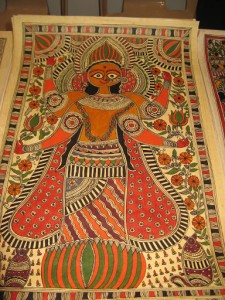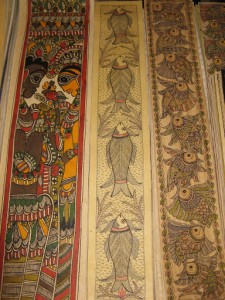 CANE AND BAMBOO: Gopal Mohanta makes jewellery from cane and bamboos as well as boxes, clutches and hair ornaments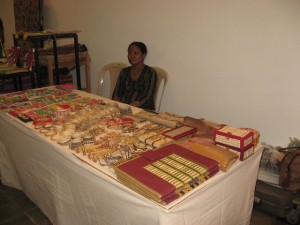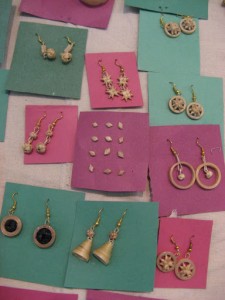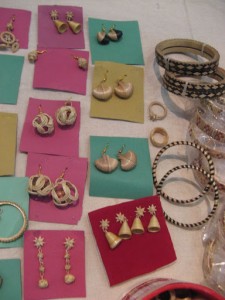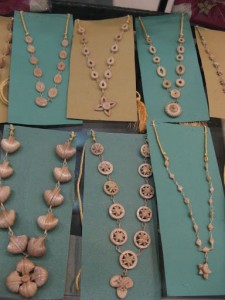 The jewellery is made out of Sundi Cane & Jati Bamboo, which is natural resource in the
North Eastern Region. During the process, the materials are split and made into fine rounded sticks using traditional tools . The items made are then treated with a proportionate mixture of chemicals.
KANTHA: Khama Batikarmakar, the kantha artist, comes from Burdwan, WB.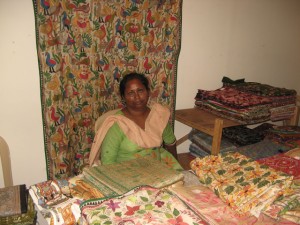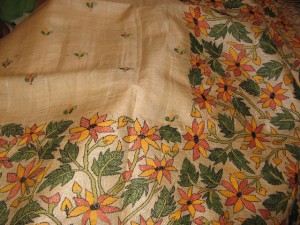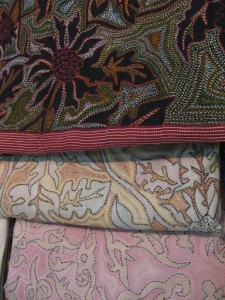 Kantha comprises mainly of running stitches of varying lengths and was mainly used for quilting.Today Kantha has evolved and is a popular form of embroidery on sarees, dupattas and bedspreads.
KALAMKARI
Traditionally, Kalamkari embraced the world of Gods and Divinities as they were used for decorating the temple chariots in religious processions or stretched behind the idols of Gods. The design usually has a main central panel which is surrounded by smaller blocks arranged in rows which depict scenes from legends. It may also have verses from original texts written in black ink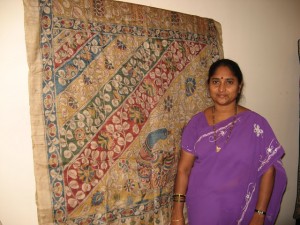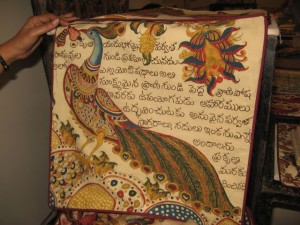 KOTA: Master weaver, Asgar Ali, comes from Kota. Kota Doria is woven on a traditional pit loom in such a fashion that it produces square checks pattern on the fabric.
They smear onion juice and rice paste into making the yarn strong so that no additional finishing is needed. The weaving is done using pure cotton threads, but the style is so varying that it makes the final cloth translucent and gives it a cross pattern.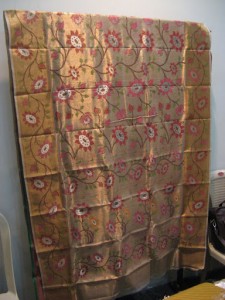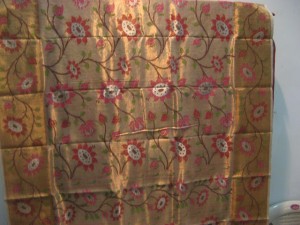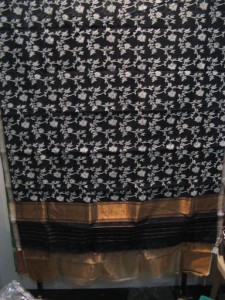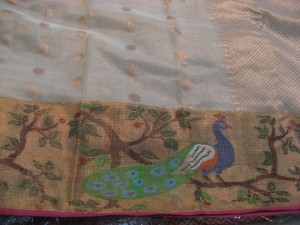 WOVEN RUGS: Surjan Ram Jaipal of Urmul, Marusthali Bunkar Vikas Samiti.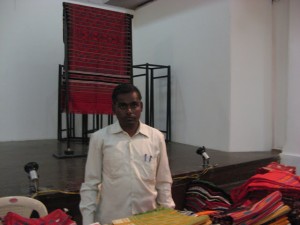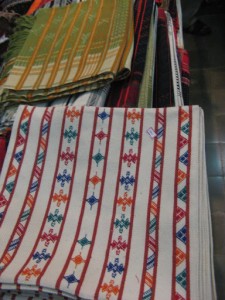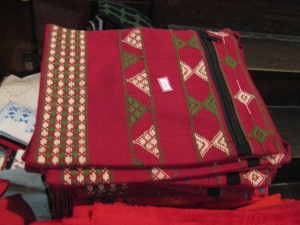 Weavers of Rajasthan have been crafting exquisitely woven durries or flat weave rugs in their backyards. Salawas, near Jodhpur, is an important center of such weaving in western Rajasthan.
SANDALWOOD MINIATURE CARVING:Vinod Jangid, displays the finely carved wood depicting historic events .
KOFTAGARI: Rajesh Gehloth, practices the art of Koftagari.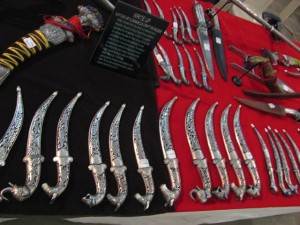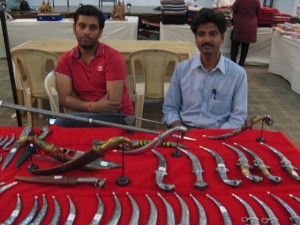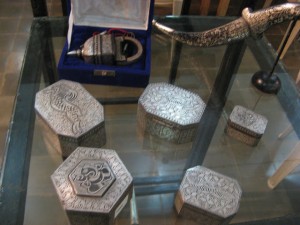 Koftgari Work is an overlay art which is done by pressing gold/silver wires by a special tool and then it is heated and pressed by a hakikstone. It is an art of damascening that is currently practiced and followed in India.
CHIKANKARI: The art of Chikan embroidery in India is about 400 years old and is believed to be a Persian craft which came to India with Noorjehan, the wife of Jehangir.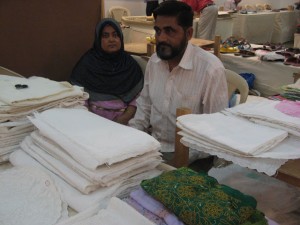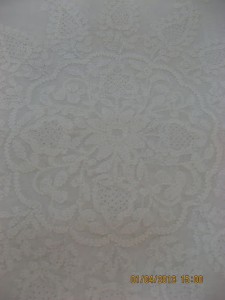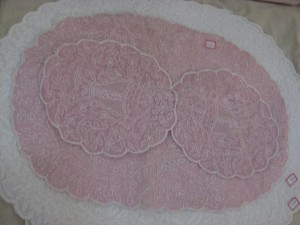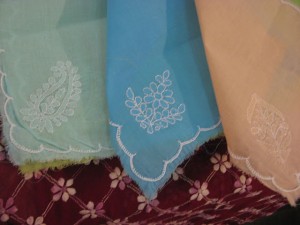 LEATHER CHAPPALS FROM MAHARASHTRA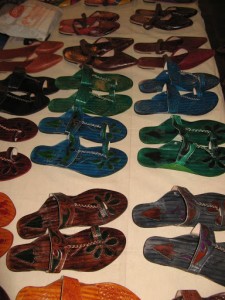 BANNI: The Bani embroidery is one of the ethnic styles of embroidery of Kutch (Gujarat). The Bani embroidery pattern is liked for the intricacy and richness of the design.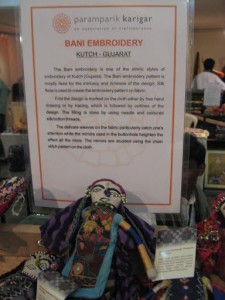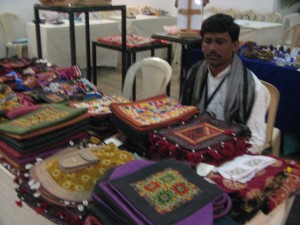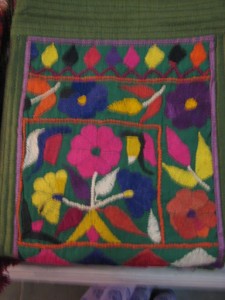 GEMSTONE: Prithviraj Kumawat practices the intricate art of gemstone carving. There are various stages involved eg selecting a nondefective stone , shaping , sanding , polishing etc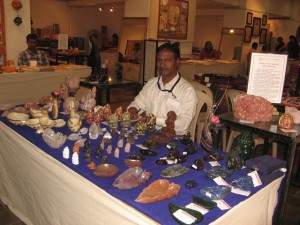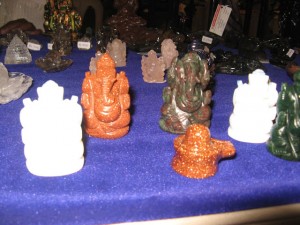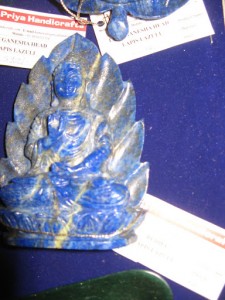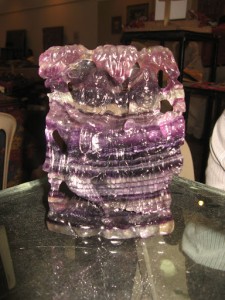 CHANDERI: Rehan Khan sells Chanderi/Maheshwari sarees .Traditionally, the Maheshwari borders had geometric motifs.
Maheshwari sarees are in cotton and silk. The body is plain or has stripes or checks.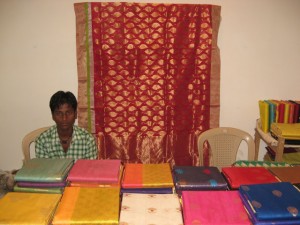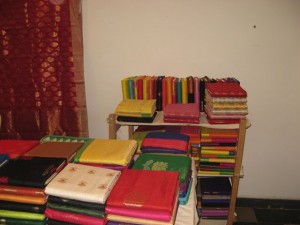 PATTASHILPA: KHADU CHITRAKAR comes from a family that practices this art for generations. They travel with their painted scrolls from village to village narrating stories of valiant noblemen and great rulers.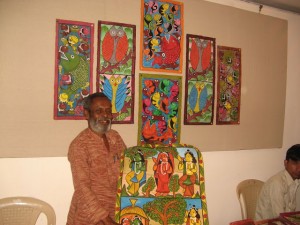 LEATHER These are leather bags made from buffalo skin and dyed in natural colors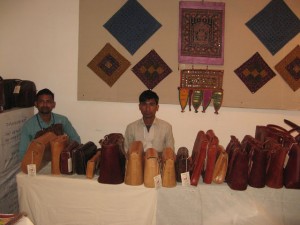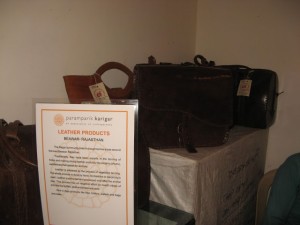 BANI: Karmabehn Gordiya is a mobile shop for Bani craft. She wears a top that is completely covered with her embroidery.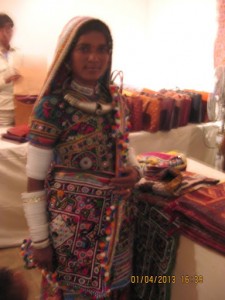 The Jhola that she carries has numerous stitches and embellished with beadwork, and mirrors.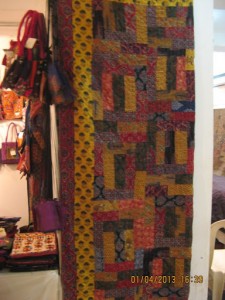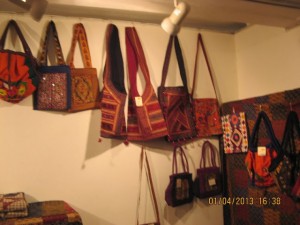 CHERIYAL: D Rakesh, the artist, comes from Warangal district of Andhra Pradesh.This too like pattashilpa is a narrative art. Thepaintings on the scrolls depict stories from mythology and folklore, expressed through a rich scheme of colors.
The scroll flows like a film roll.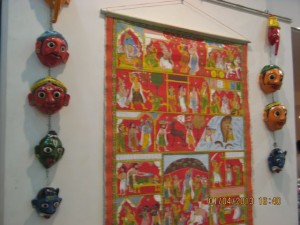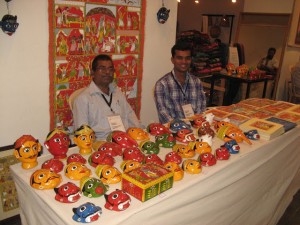 BANDHANI: Suleman Khatri comes from Kutch and is an expert karigar of Bandhani, as the craft of tie and dye is called, is a complicated and sophisticated method of decorating cloth by manipulating the dyes. Each region has its own special design and colour schemes.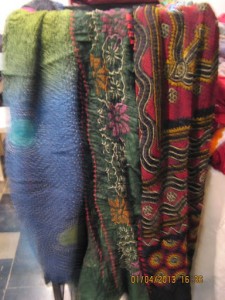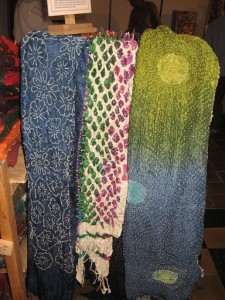 SRIJANI: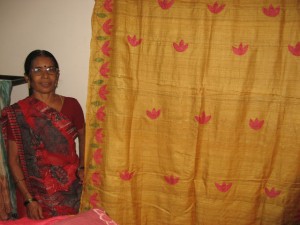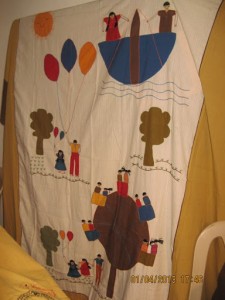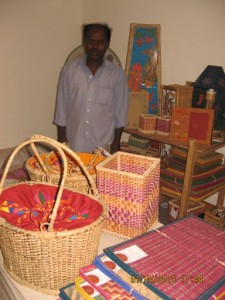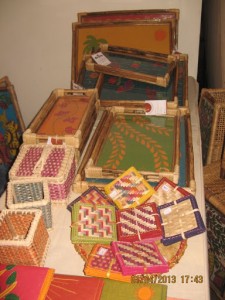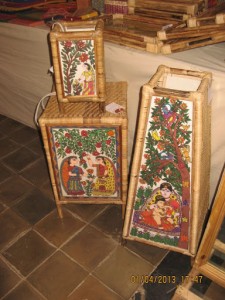 MINIATURE Artist Jai Prakash stands with his national award winning (1998) picture .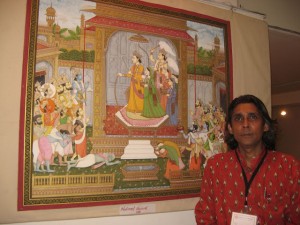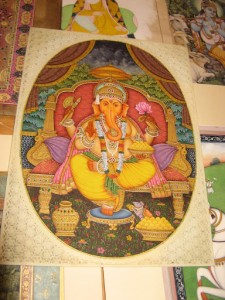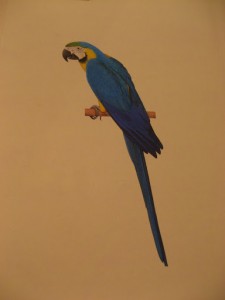 This is a stylised art and was brought to India by Moghul rulers.
HIMROO: Himroo is a traditional weaving style of Aurangabad. Himroo weavers were brought by Mohammad Tughlak. Himroo is a replication of Kum-khwab, which was woven
with pure golden and silver threads in olden days. To make a Himroo shawl, it takes 3 weeks for 2 persons.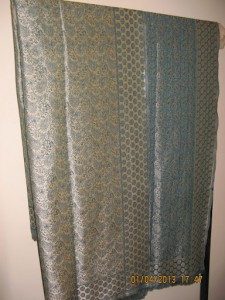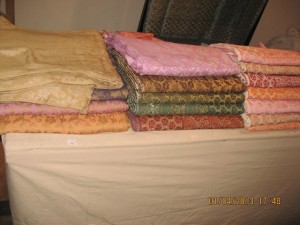 BENARAS WEAVE: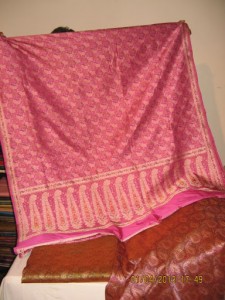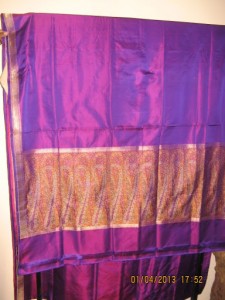 RAJASTHANI JOOTA: Qamrun Nisha hails from Jodhpur. This craft is a painstaking one. But the process invoked makes the jooti durable. The specialty of this is that it can be worn on any foot.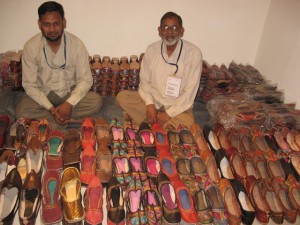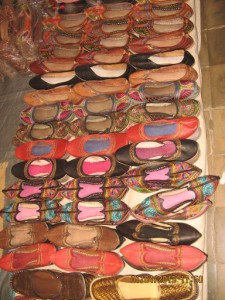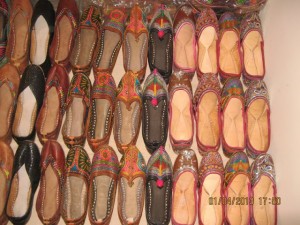 MYSORE PAINTING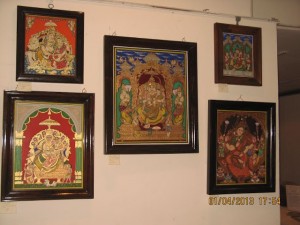 LIPAN: Ramju Kumbhar is a mud work artist. Mud relief work or mud mirror work is done on the walls of the huts called bhungas in Kutch.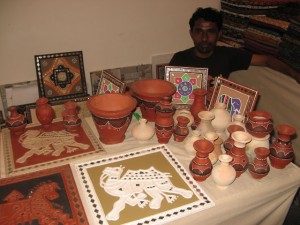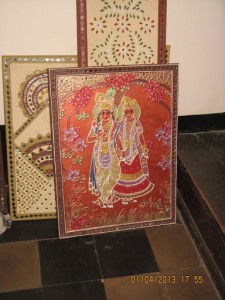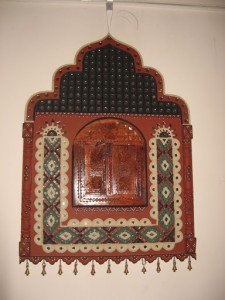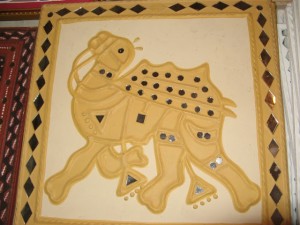 Mud is prepared with clay easily found in the Great Rann of Kutch. It is pounded to a smooth powder and other local ingredients are added for anti cracking properties. Mirrors are fixed to give it a rich look.
AJRAKH PRINTING: Literally it means "keep it today" (aaj rakh in Hindi)
This hand block printing is done on both sides of the fabric.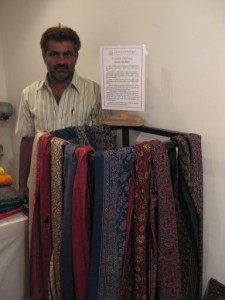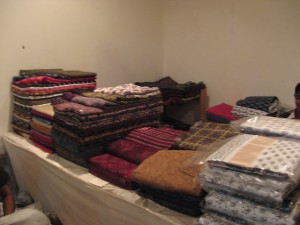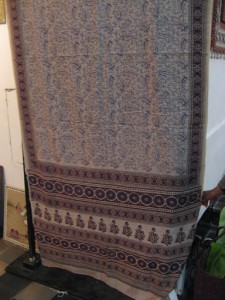 This printing technique uses wooden blocks for resist printing, where patterns are blocked with mud or lime. The preparation and printing techniques are lengthy and highly technical.
Important Links for staying updated with Upcoming Events, Workshops of Paramparik Karigar:
Related Post: