Paramparik Karigar introduces its Master Craftsmen under the series called 'Jewels In Our Crown'
"Master Craftsman: S. Shakir Ali (Padma Shri Awardee) Miniature Painting"
Miniature Painting of Rajasthan: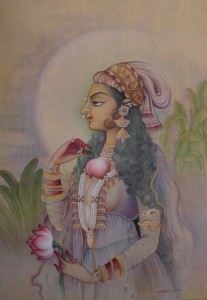 India has a rich heritage of miniature paintings. It is impossible to miss out on the Radha-Krishna Pahari painting or the Mughal court paintings of Rajasthan. They adorn many public spaces and homes in India. The highlight of these paintings is the attention to detail, and fineness which is noteworthy. All the varied cultures of India found expression in the works of miniature paintings.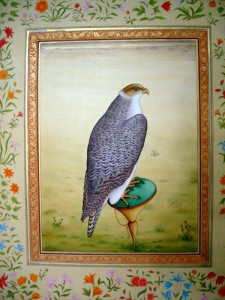 Miniature paintings are spread out all over India; however Rajasthan and Himachal Pradesh have strong and entrenched styles of paintings such as Nathdwara, Kangra, Picchwai, Basohli, Mughal, Surpur and Guler styles.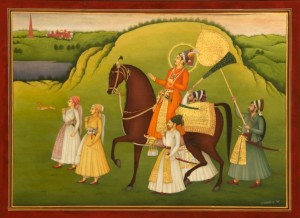 Gracious strokes artfully done with a single haired brush, marks the detailing in the painting. The intricacy is so fine that the painting cannot be viewed alone with naked eyes and needs magnifying glass to view the details.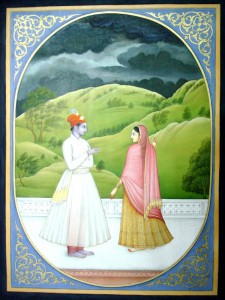 Mughal School of Miniature Painting:
The genesis of the Mughal miniature painting is thought to be one of the pivotal points of visual history of India. A flamboyant and impressive fusion of the Indian style and the Safavid style of the Persian school gave birth to the Mughal School of miniature painting. This form took its concrete shape especially under the patronage of Akbar from 1560 A.D. who appointed hundreds of Indian artists spearheaded by two popular Persian masters called Mir Sayyed Ali and Abdul Samad Khan. After its aesthetic height during the reign of Jahangir, it gradually declined during the reign of the much puritan emperor Aurangzeb before its final decline during the British rule in India.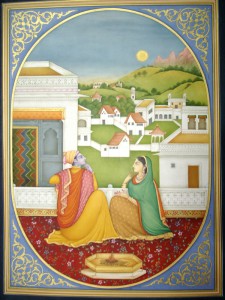 Master Craftsman S. Shakir Ali:
Master Craftsman S. Shakir Ali of Jaipur is an acclaimed miniature painter who specializes in the Mughal style of painting. S. Shakir Ali was born in 1956. He completed his bachelor's degree in Arts from Rajasthan University, Jaipur. His grandfather Syed Hamid Ali was a court artist, his father S. Sabir Ali (Chunnu Mian) was an art collector. Inspired by both of them Shakir Ali started learning miniature painting under the guidance of Late Padama Shri Ram Gopal Vijaiverigiya and Shri Ved Pal Sharma (Bannu Ji) he learned different kinds of Indian traditional schools of paintings and specialized in Mughal & Company schools of painting. He has been painting from the age of fifteen after completing graduation in 1978.
In 1981he started showcasing his art in the exhibitions and demonstrations. His first demonstration and exhibition was at craft museum, Delhi followed by AWA-American Embassy, UK Embassy, DCWA, Ashoka & Taj Hotels, etc. His paintings got selected by Ministry of external affairs for presentation to various dignitaries and foreign VVIPs.
After a long struggle and hard work S. Shakir Ali got an opportunity from ICCR to represent India in SAARC 10th Folk festival at Islamabad in 1992 where he won first prize in art competition. He held solo exhibitions all over the world.
Apart from the exhibitions, S. Shakir Ali held various live demonstrations and workshops to create awareness about miniature paintings. He has trained more than 2000 students in India and abroad who received recognition and awards for their works.
He has also restored old paintings in City Palace, Jaipur and Prince Wales Museum, Mumbai and they also have collection of his paintings. Since last 3 years he has been experimenting with new creativity and has started working in modern miniature and contemporary art where he is continuing with the miniature technique. His work is infused with delicacy and fineness of strokes that reveal his mastery over the technique of miniature painting. His son Sayyed Zohaib Ali is also a painter and recently won 'The Roshan Kalapesi Memorial Award for Arts & Crafts' by Paramparik Karigar.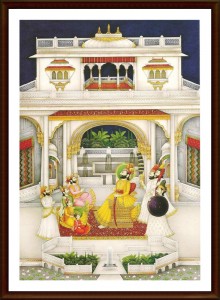 Exhibitions:
1) SAARC 10th Folk festival at Islamabad in 1992
2) India Fair, Dubai (1995, 96, 99)
3) Bangkok (Thailand) in 1995
4) Millennium Festival at Hong Kong in 2003
5) SME & Handicrafts Fair in Mauritius in 2005
6) Festival of India in Brussels, Belgium in 2006;
7) Paramparik Karigar at Mumbai, Pune Chennai & Bangalore (since 2000 every year)
8) Cultural and international Festival of Miniature and illumination at Algeria in 2007, 2009.
9) His paintings were auctioned by Paramparik Karigar at an auction conducted by Bowring in 2003 and Osian's in 2008-09
10) Harmony Art Foundation at Mumbai in 2009.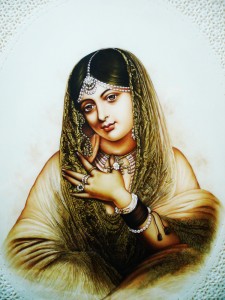 Awards:
S. Shakir Ali is the recipient of numerous awards and honors.
1) He was awarded 1st prize in SAARC, Pakistan held in 1992.
2) In1993 Govt. of India awarded National Award to S. Shakir Ali.
3) On 26th Jan. 2013 President of India honored Shakir Ali with the Padma Shri Award.
4) He got 2nd Prize in Algeria where various world famous artists participated in the competition.
5) He got merit certificates in Dubai, Hong Kong and Thailand.
6) Recently on 2nd October 2014 Shakir Ali was honored with 'Nexzen Excellence Award'.
Address:
Plot # 7 "Ashiyana"
Colony fo billochian,
Bans Badanpura,
Jaipur-302002
Ph. No: RES – 0141-2630135
Shakir – 9828193033
Wife – 9828406865
Emails – shakirali_imp@yahoo.co.in
shakirali.jpr@gmail.com
Recent posts